Last Saturday was the day we flew to Singapore. It was a mixed emotion. Excited to see Hubby of course but I dreaded the flight with Natalie. Will she cry? Go hysterical? Will she just sleep thru the flight? I was too anxious that sometimes, I forgot about the excitement all together!
Then an hour before the flight, the Little Girl fell asleep! How awesome! I claimed she would just sleep althroughout the flight. I was wrong. The moment we sat on the plane, she was wide awake until we reached Singapore!
Well to my amazement, she was absolutely well behaved on most part. There were bouts of crying but nothing too serious.
These are some ways we were able to have a stress free flight:
1. Get a seat in front. This was the best part of our flight. Because Natalie is such an active kid, she can't stand sitting for long period of time. She needs to stand, walk around, sit, go down and just move in general. That leg room in front was such a big big big help! Good thing the flight wasn't full so the seats on our right and left were empty. We got the full row to ourselves!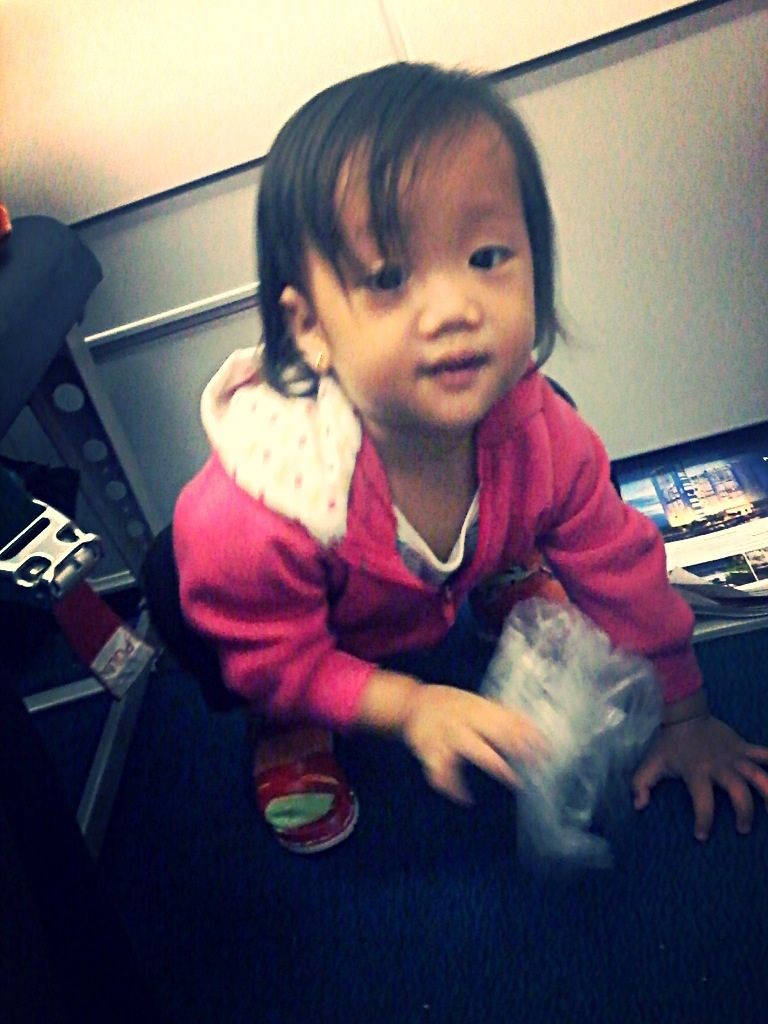 2. Bring a lot of food. I had cereal, bisquit, hotdog, pizza, bread. And she ate them all in that 3 hour flight! I would categorize Natalie as a picky eater but that night, she just ate to entertain herself. But be very careful not to overfeed your kid or she might throw up. The food I brought were many but small in portion so it was fine.
3. Bring toys. My daughter is fine with a pen and a paper. She's fine with magazines and my bag of make up. So I didn't have to bring a lot of toys during our flight. You know your kid better. So bring something you are sure she'd enjoy. If your toddler is one who could already understand time, you can pack a new toy she could open every hour. So for a 3 hour flight, wrap 3 new toys and put a time on them. Tell your toddler you'd open it at a certain time. See if it works well for them.
4. Bring extra pair of clothes for both of you. Well, I wasn't able to use her clothes but I was able to use my extra shirt. There wasn't a good airconditioning at Naia Immigration and I was sweating as we head to our gate for boarding. Good thing I have an extra shirt so I was able to change before boarding.
5. Breastfeed or give a bottle during take off and landing. This was an advice given to me by another mom. This helps relieve the pain from pressure. If your child is old enough for chewing gums, let her have one. As for you, just keep yawning. That will do the trick.
6. Book a midnight flight. Again, it depends on your kid. If she mostly sleeps very deep, this would be a good idea. But if she's a light sleeper, then the idea of turbulence, on and off lights and the captain speaking may irritate her and do more harm than good.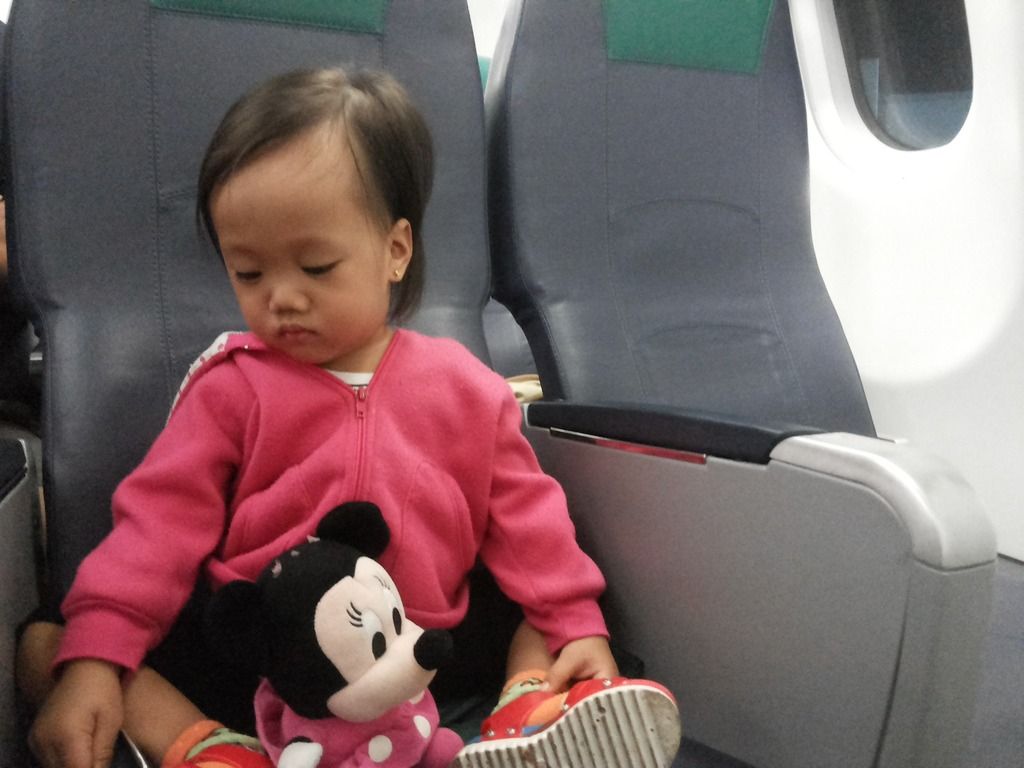 These are actually things you would bring on a normal day out with the kids but just in case you need reinforcement, this list could help!